Grand Beach Weddings is a beach wedding company that offers Florida beach weddings in Clearwater, St. Petersburg, Indian Rocks beach, Treasure Island, Redinton beach.Tarpon Springs and for all Pinellas County, Tampa bay and Hernando county areas.
Grand Beach Weddings offers Florida beach weddings 7 days a week from small walk out on the beach and get married weddings like their Grand affair package to full featured wedding packages that include bamboo or other wedding arch or arbor setups. They even have lanterns as part of a wedding setup, wedding chairs and more can be added to each custom package. All wedding packages include professional photography and wedding minister with complete setup and take down for each setup.
On their wedding packages page on their website you can create your own custom beach wedding packagese by picking the wedding setup you want, the flower colors and accent colors and lots more.
You can also add on a decorated walk way with matching flowers and then add on other extras,
Need chairs on the beach for your guests you can add on white wedding chairs that can be covered and color sashes added to them so you end up with a full wedding package just the way you want it.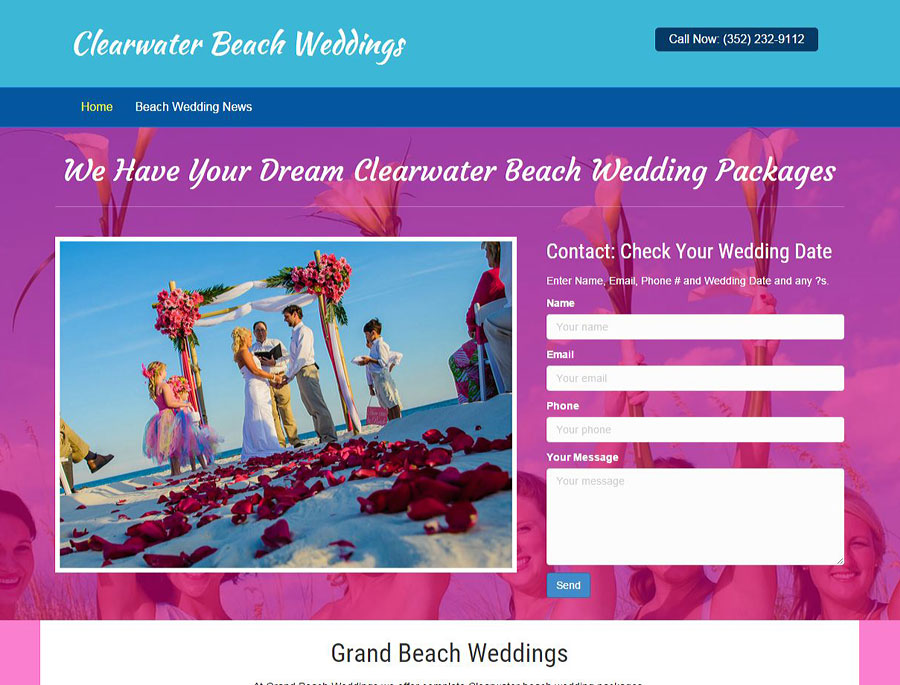 What about Elvis? As a special treat Grand Beach Weddings offers a Elvis impersonator that can come to the beach and sign at your wedding or he can sign and preform the full wedding as your minister as well this all makes for a great time and a beach wedding to remember.
The new Grand beach weddings website is done by Go Active Media in Spring Hill Florida. The site features a responsive design with a wide layout so it works great on cell phone and all other devices. It also features a custom create your own wedding package they add up a total for you as you create your custom package.
If you are planning a wedding and would like to get married is Pinellas or Hernando county on the beach or other areas check out the new website as they offer everything you need for the perfect beach wedding seven days a week. See the beach wedding photo gallery to see over a hundred wedding photos to see the quality of photography you can expect from the Grand beach weddings photographer. The photographer. is also the owner of the beach wedding service company so you know you will always get the same great photographer for your Florida beach wedding. They offer weddings on the beach 7 days a week year round give them a call at (352) 232-9112
Today we shot some Branson area Prom photos.
We offer professional Branson photography services for Prom weddings family portraits Glamour photography and more.
And a fun one using a few props. Not your normal prom photos..
Today we shot the new promotional photos for signer entertainer K.B Jacks in our Branson photo studio on 76.
He is a Grath Brooks impersonator doing a show in the downtown area of Branson at the Hot Hits Theatre.
The photo session went great and we ended up with lots of fantastic photos.
Here are some of the images from the session and the 24×36 poster we printed for him.
The new poster
Hollywood Photo Magic will be offering Hollywood Glamour photos very soon.
Glamour photos shot and printed as you wait is many sizes.
The sitting fee is $99 and includes.
Use of our Glamour clothes
Special Glamour hats
Full photo session with many poses and photos taken
Professional Digital face retouching
Image softening
Choice of many backgrounds
One 5×7 print is included
Many print packages to pick from
We do in house large format printing and can print most images and frame them as you wait.
Enjoy your trip to Branson with a Glamour photo of you. You derisive it !!
Lots of new cool looking designs for you to star in.